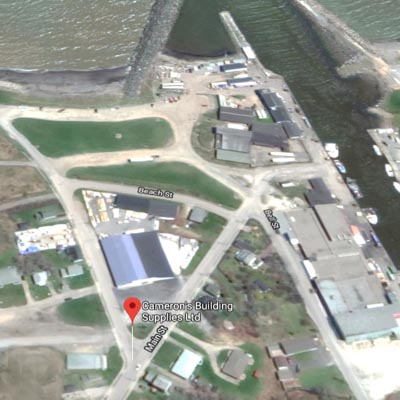 Cameron's Building Supplies
Cameron's Building Supplies Ltd.
152 Lower North Street
Glace Bay, NS B1A 3R9
PHONE: (902) 849-3555
FAX: (902) 849-1947
EMAIL: e2eae641n1ge2FPnZK1DeFbhnM9fg8fhcwKbD|
HOURS:
Monday to Friday: 8 am – 5 pm
Saturday: 8 am – 12 pm
About Cameron's Castle
HISTORY: Lifelong Glace Bay resident, Jeep Kennedy, is living proof of the value of hard work. Kennedy's real name is Thomas, but you'd be hard pressed to find anybody who calls him by anything but Jeep. Among the people who know him as Jeep are the many customers he's come to know as owner of Cameron's Building Supplies in Glace Bay. Three of his uncles at one time or another worked at what was then known as Hugh Cameron Sons Building Supplies. Growing up on Lower Main Street in Glace Bay, Kennedy spent a lot of his spare time at the store. "From the time I was seven years old, I was involved in the building supplies business," he says. Kennedy went to work at Hugh Cameron Sons Building Supplies for 10 years, and then at Chappels Limited in Sydney, where he continued to learn the ropes of the building supply business for another 10 years. In the early 1970s, Chappels was bought out by Nova Scotia Building Supplies and Kennedy worked for them for about five years. On August 13, 1977, Kennedy bought and officially took over Hugh Cameron Sons Building Supplies and changed the name to Cameron's Building Supplies.
TODAY: Since then Cameron's has a new, bigger retail building, and has joined Castle Building Centres, the largest independent buying group in Canada. These changes were made in order to give Cameron's a competitive edge. Cameron's has also expanded the inventory in-store, which today includes flooring, insulation, roofing, windows and doors, a full hardware line, and anything else needed by a building contractor or a handyman. Running a business today means taking a hands-on approach with customers in order to understand their needs.
For all your upcoming special occasions – weddings, Father's/Mother's Day, birthdays, etc., consider a Castle Gift Card. Available in-store.
---
Staff Directory:
Leona Gillis
e2eae391Y-2P543WyMG5.XYYX0gL2SsGXYDk2s|
Bill Gillis
e2eae111bmrr5PmHyolmrrmyHhoFVpByzbXByzhrmhB@3mBHzHh|
Greg Gillis